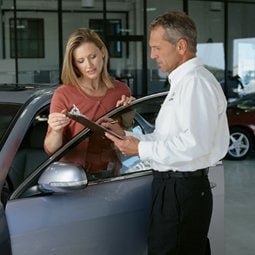 Schedule Service for Your Ford Vehicle in Poteau
Not only does Ford produce many top-quality vehicles, but numerous top-quality owners take care of their cars, trucks, and SUVs. At Riverside Autoplex of Poteau, our service department stands by for those interested in making an appointment for repairs or routine services.
Noticing A Problem
If your Ford starts showing signs of problems, such as weak acceleration, slow braking, odd sounds from the engine, or anything else out of the ordinary, bringing it to our dealership's service center near Pocola may be wise. A thorough inspection could uncover problems that may get worse without repairs.
Regularly Scheduled Service
Even when "nothing's wrong," a vehicle requires routine service and maintenance. A Ford vehicle's owner manual details when an F-150, Fiesta, Explorer, Focus, or another model requires a multipoint inspection and specific work.
Oil Changes
Driving around Mena with old oil inside your Ford's engine could be costly. Expect aging motor oil to drive down fuel efficiency and contribute to engine wear. Maybe you also need a different type of oil for the current weather. And don't forget the filter change.
Fluid Changes
Oil is not the only vital fluid inside the vehicle. Coolant, power steering, differential, brake fluid, and window washer fluid require checks and replacements, too.
Brake Service
If brakes don't work properly, a Ford might not stop at a crucial time when commuting near Greenwood. Having the brake system checked for wear and tear may reveal problems that require immediate attention. Since removing the wheels becomes necessary for a thorough brake check, why not have the tires rotated simultaneously?
Tire Inspections
The more you drive, the more your tires' treads will wear and age. Road debris or punctures could cause air loss. Get your tires checked during every visit to ensure proper pressure, sufficient tread depth, and rotation.
More Service Options
We do other service and maintenance work at our Poteau location, such as windshield wiper replacements, battery inspections, and parts installation.